History
"My grandfather, Roy Ledbetter, taught my father, Ron, the ethics of business. He believed in delivering high quality memorials for a reasonable price. In other words, value. He began selling monuments in 1957 as a way to make some extra money. My father started working with him in 1963 at the age of 13. At his death in 1970, my father took over the business and ran it for four years. My uncle ran it from then until 1994 when my father and mother, Cathy, renamed it Riverhill Monument Company and began working out of a small manufacturing facility.
Today Riverhill has grown to be the largest manufacturer of memorials in this area. We still follow my grandfather's guidance today by bringing value to our customers through high quality stone and attention to details in the little things insuring our customers of the finest value for their dollar." –Robbie Ledbetter, President, Riverhill Monument Company
---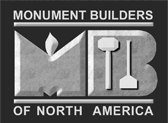 Riverhill Monument Company is a member of Monument Builders of North America and Monument Builders of the Carolinas. Both of these organizations provide us education to insure that we have the knowledge to provide you with the finest materials manufactured with the latest technology. Ron Ledbetter served as president of Monument Builders of the Carolinas from 2005 to 2007. His wife Cathy served as president from 2008-2009.
Riverhill Monument Company is well respected by our peers in the memorial industry and by our customers both past and present. They have won numerous awards for their designs from Monument Builders of the Carolinas, for both public monuments and private memorials.
This area's largest full service manufacturer of memorials.
It doesn't matter how you refer to them – rocks, tombstones, markers, monuments, or memorials.
We Build Them With Love Because Someone Lived, Not Because Someone Died